ABOUT US, TESTIMONIALS
Travel reports
Travel reports
Read what our guests have said about us, our efforts, our partners, South Africa and Southern Africa
"… what a great trip, absolutely fabulous and well above my expectations. I am completely sold on South Africa now and feel that there is so much more to see and experience, and also return to places where we have been and enjoy all the fantastic that South Africa has to offer. The dining experience, with all good wines is one of an experience in itself. The entire trip worked out so well. The itinerary was very well planed and you were so right about the Kruger Park, Malin. What an experience. Absolutely magical! I could have stayed there for a much longer time. Huge THANK YOU for all you´ve done for us and I give you the highest rating a tour operator can get…
— ANNA
We are so pleased with the whole trip, the itinerary, accommodation, food, excursions and the travel company! Everything was superb! Beluga House was a great accommodation! Felt like we had our own private accommodation with the pool just outside the door, absolutely perfect. The Kruger Park was an amazing experience, would never thought it was this fun and exciting! The rangers were absolutely incredible at both places that we stayed at and it was probably the rangers with their commitment and knowledge that fascinated most. Huge thanks for a really well planed itinerary Malin – I will give all my best recommendations for someone traveling to South Africa …"
— ERIKA & MAGNUS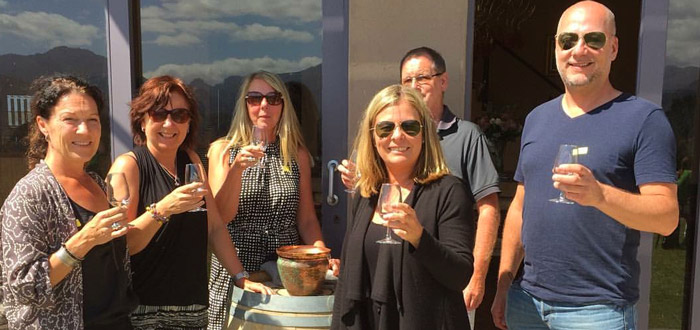 "I'm probably still in shock after this absolutely fabulous trip where everything worked out so well … In Franschhoek we joined the Wine Tram, a complete tourist trap, but we had a super nice day and ended up singing "Lion Sleeps Tonight", for the whole train :-). Kruger Park was so amazingly beautiful and wonderful. Amazing staff at both places that we stayed at …
— MARIA
.. you were so right when it came to accommodation, restaurants and guides/transfer bookings. All drivers and guides we met were great, Garth was indeed a professional guide and taught us some history 500 years back in time, so eventful. This was not our last trip to South Africa, we will definitely travel back soon …"
— SUSANNE & PER
"It's hard to imagine a place with more charm, extremely friendly and serviceminded staff (we have met a lot of nice people throughout the trip but the staff at Ngoma were in a class of their own), the most spectacular views, fantastic food and high quality accommodation. In addition, with an extremely professional guide (however, we only had one of several) and that the price included not only "local" wines but really good South African wines and premium brands of spirits. At the game drives we participated in (three by jeep and one by boat), we saw hundreds of elephants, antelopes, buffaloes and many giraffes, zebras, chobe chickens, hippos, crocodiles, a hyena – and three lions… the closest we got was perhaps 4 m away. Wow. A wonderful memory."
— CHRISTER OCH MARIANNE JANSSON
"We want to give top score on the whole trip. It's of course a lot to take in when it's the first time you visit a new country, but everything went so well and we are so happy. And it will definitely be a return visit. Maybe travel earlier in November to Hermanus and experience the whale season? Maybe a wine trip between all the nice wine yards and a safari, which you never can get enough of. I must say that it's an incredibly beautiful country. A big thank you for all your assistance. We would not have experienced all the nice hotels and restaurants without your help."
— VARM REGARDS FROM ROSIE WITH FAMILY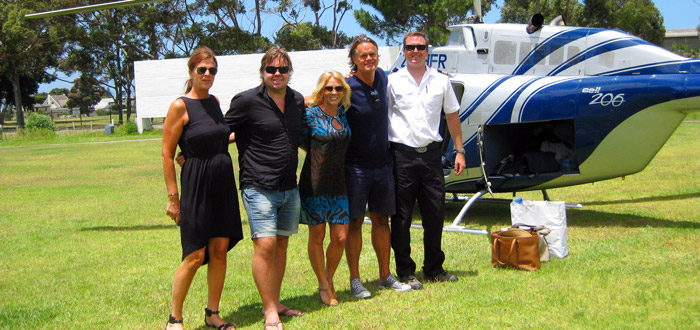 "Many thanks to Malin at Upplev Sydafrika for planning an unforgettable trip!"
— TOMAS & MARIELLE BROLIN
"We were so friendly and pleasantly wished welcome and nicely cared for and even though we didn't arrive until 3 pm in the afternoon we were served a delicious lunch so we all could get prepared for the afternoon game drive. Our ranger, Sean, and our tracker, Rob, who became our cicerones were really professional. Although animals were not in abundance, with the exception of impala, we managed after a lot of driving and spotting to suddenly encounter a rhino and a hippo and a giraffe and an elephant and a lion and a leopard and even a cheetah very close up, so after each game drive we got back to the lodge with many exciting experiences and nice photos. We of course wanted to see the big 5 before we went home but the great herd of buffaloes had already left the area and had not been spotted in two weeks time. However, there were a few single buffaloes remaining that didn't manage to follow the large herd but of course it was very difficult to find them. So, after much searching we gave in. And then something very strange happened. When we were about to pack and get ready for our journey back home, a lonesome buffalo came strolling past outside the lodge. Unbelievable!! If we ever get the opportunity to go on another safari before we get too old, we will definitely go back to Londolozi!
Yes, we have so many new impressions and a lot of nice experience from the trip and this trip would probably be impossible to exceed!A warm thank you for all your dedication and for all your care that contributed to this trip!"
— MARIANNE & THORD WILKNE
"Sitting at the airport in Johannesburg, on our way back home. Absolutely overwhelmed after our fantastic trip. Everything has worked perfectly throughout the trip, with the culmination this morning with a magic morning safari. We then got to see nine lions drinking water 2 m from the car and thus we got to see all the Big Five. Also (maybe brutal and raw) experience the hyenas just caught and newborn hippo. Our fantastic ranger Pieter stated that it was unique to see.
We are extremely happy with everything and grateful for everything you have organized for us. We will definitely return, as soon as possible, and within that we will warmly recommend both the destination itself and you / Upplev Sydafrika, as the travel agent."
— THANKS FOR ALL! BIRGITTA, HANNA, SEBASTIAN OCH HASSE
"Now we are home again after an absolutely fantastic trip and my family and I just want to thank you for the trip you have organized for us. It has been absolutely wonderful and it is the best experience we have all had. The highlight was definitely the safari and we spotted all "the big five" and so many more amazing animals during our stay. I can not say in words how grateful we are for all your help and I could only dream about that it should turn out so well. All the accommodations have been great and all the staff have been so nice and all the restaurants you booked for us has been so good with delicious food. As I said, I can not say in words how much we appreciated your assistance and South Africa has become mine and my family's new absolute favorite destination, we love it!
Thanks a million and I will get back to you when we start planning our next safari-trip"🙂
— BIG HUG FROM THE WHOLE SKÖLD FAMILY !!
"I want to start by thanking you for the fantastic work you have done for us. Our best trip ever! Everything has worked perfectly from accommodation to excursions. We have lived like kings and felt like movie stars 🙂 52 De Wet was absolutely magic.

Franschhoek and Holden Manz was the best and most cozy accommodation, but again, all accommodation have been good.
The transport has worked perfectly and all the restaurants you booked have been magical (thanks for my new kilos :))

A huge thank you for everything!"
— OLLE GRÖNBERG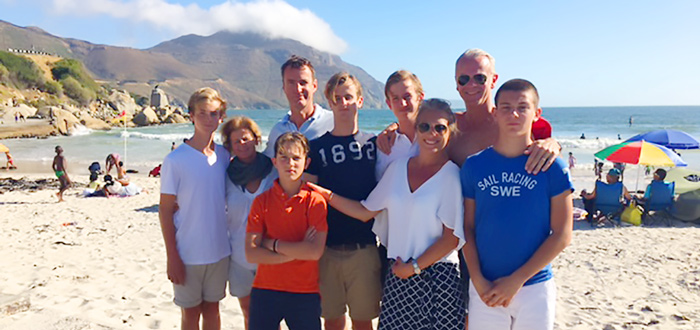 "Now we are back home after 2 wonderful weeks in SA. All your suggestions were spot on and you could absolutely recommend this trip for other clients. We have done so much, experienced so much and eaten too much good food. Ngala safari was beyond all expectations! We had the best guide who managed to show us everything you can imagine and even more, for example a lion male with its prey, eating a buffalo and a rhino who marks its territory. We all carry with us unforgettable memories of a great country that has so much to offer. We hope that South Africa will be able to develope in the right direction. A big hug from all of us."
— CAROLINE LAGERBIELKE
"We want to thank you for our amazing trip. Everything went smoothly, the transport, accommodation and guides. It was an experience that gave us more taste of South Africa. So we may have a reason to come back in a few years time.
Number one on our South African trip was the Cape of Good Hope tour with the incredible knowledgeable guide Garth. He gave us so much knowledge and taught us a lot of history about South Africa in general."
— LENA & SVEN-ERIK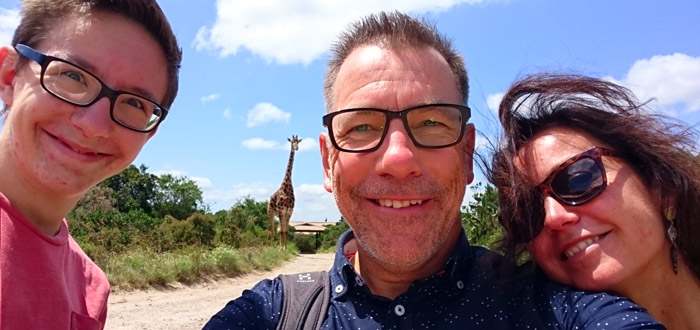 "… what a great trip we had! Thanks a million for helping us book great accommodations, all dining recommendations and all the other recommendations for that matter. The three of us all agreed that this is the best trip we've done, "nothing was bad" as the son said yesterday. And the safari was the very best!"
— THE ALM PARTY AND DIGGLES
"Bazaruto was a real paradise. We did a lot of excursions and enjoyed the sun, snorkeling, excellent food and the spa. We met a lot of nice people and have shared contact info for future trips within Africa."
— … FROM A PLEASED, SUNBURNED (WITH EMPHASIS ON BURNED :-)) SCHAUMAN SHAKEER FAMILY
"Holden Manz was fantastic, wonderful rooms especially the large suite for Emma and co. The service was excellent, staff very flexible and the garden with surroundings was beautiful.
Our guide and the driver at the wine tour were both absolutely outstanding. Besides great knowledge of the subject the guide also told us about South Africa's history and development, which we had great benefit of."
— ANNA HALLENCREUTZ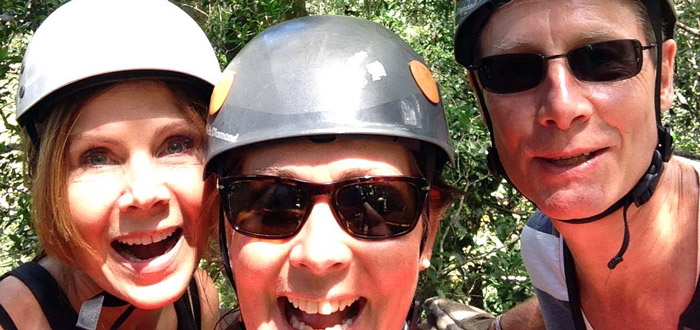 "The next day we started early and moved over to Bonne Esperance (so unbelievably cozy hotel can absolutely recommended) where we were picked up by Adventure Shop for two days of hiking. First day a moderate hiking around the vineyards which ended with a Braai and wine tasting at a cozy little vineyard and another wine tasting at another winery – fantastic hiking with a fantastic guide who taught us all about viticulture and winemaking, absolutely superb!! The next day started early with the same guide who took us to a National Park for a hike of 17 km. Absolutely amazing hike that took us up, up, up to a lookout point at 1500 m altitude, where we saw almost all the way to Franschhoek. The walk took seven hours and was absolutely superb, the guide knew everything about flowers and plants, termites, beetles – so we learned a lot during the hike!! This hike is absolutely super and can be warmly recommended, but it requires a lot the participants. We are so incredibly happy with our stay in Stellenbosch, we have to come back !!"
— THOMAS & EVA KLING
"Can only say that everything was great from accommodation to restaurants. The Shark cave diving became a very successful tour – lucky with the weather. Luckily we were able to visit Table Mountain:-). We went to Cape Point and were lucky with the weather as well. Cape Town and WM was really a nice and cozy guesthouse. We felt almost like home, familiarly. All restaurant visits were xtra fine:-). In summary, it is the best trip I have made !! Already longing back to South Africa. The high expectations I had surpassed. All three of us are more than satisfied."
— LENA KRISTOFERSSON
"We can really recommend Avondrood Guesthouse. It was probably the nicest place we have ever stayed at. Very stylish decor and a fantastic garden. Only six rooms and the super friendly owner who were very helpful with bookings etc. Once again. Many thanks for all your help that made our trip perfect!"
— REGARDS DIDDI & FREDRIK
"We are very pleased with your arrangement for our trip! We have seen a lot and realize that Namibia is worth a longer trip. Maybe together with Botswana next time?! Hope you continue with your business, we are happy to recommend Upplev Sydafrika to our friends and acquaintances!"
— ANNA-LENA
"What a wonderful trip! We have definitely been affected by the "South African magnetism," and thinking of coming back many times…"
— MALIN & ANTE
"Thanks for 3 fantastic weeks we've had in Hermanus, and without your help it would not have been the same. Thanks for the recommendations, reservations, reply to email, SMS, etc."
— ANDREAS, PERNILLA & OLLE
"The view from the road that you recommended between Hermanus and Franschhoek was absolutely amazing one of the most beautiful we have seen. It was a special feeling to arrive in Franschhoek from the mountain road and the feeling of the wine-growing valley became even stronger. We really appreciated Franschhoek which was one of the highlights of the trip with the great atmosphere in the village and the beautiful nature around the whole area. Thanks for all your help and your great recommendations. It was really appreciated"
— THERESE & PETER
"We absolutely loved Franschhoek! What a wonderful place :). And Safari…. Needless to say it was amazing …!;) Almost feels weird to have experienced all that … We are so amazingly grateful for all the help to make this trip the best any of us ever made!"
— JENNY EKBLOM
"The days were wonderfully fine in every way, incredibly well organized with just the right mix of adventuers (Skeleton was the worst!), Charming accommodations and delicious good food, both picnics and dinners, and a taste of SA's wines. The environment – Sherwood Forest – wow."
— ULLA LAVER
"…thanks for a stunning, beautiful, funny, interesting and superb trip. Your thoughtful, alert, confident and chummy leadership was complemented by our local guide/driver, Ian's extensive knowledge. He always knew the answer even for our most eccentric questions. We have had an amazing and sometimes surprising experience in South Africa. In particular, the Cape's dramatic mountainous landscapes and nature with its overwhelming and breathtaking flowers. Also encounters with the wild animals was immense. Ranging from venomous snakes to penguins and to whales playing in giant formations. Plus seeing the exciting tracks of porcupines and leopards along the hiking trails. We ate also some amazingly good food. Especially I remember the rare good dishes of mussels and squid and the flavourful meat dishes, which increased our protein levels and prepared us for the tough hikes. Last but not least, the first-class, world-renowned local wines that we were offered.
The generous tasting at the old vineyards from the anno dazumal are all unforgettable cultural experiences. In a class of its own in that respect was the visit to Vergelegen, with its graceful aging buildings surrounded by a lavish flora. The farm's pride, the mighty camphor trees with their unimaginable large trunks, towering crowns and interesting history, nurtured carefully they have become a national treasure. At Vergelegen we also enjoyed a delicious meal. A picnic lunch in the middle of a "Sherwood Forest," sitting at a set table and served by two charming serving spirits that appeared between the trees. Sitting outside surrounded by numerous tall, sparse trees whose crowns whistled in the breeze – a never to be forgotten Robin Hood adventure.
Something that I fully appreciated was the four nights spent in both grandiose and comfortably furnished farms during our hike on Green Mountain Trail. Tony and his wife with their three lovely dogs; the two black embellishments with a total of three green eyes (one had lost one) well matching the slight tiger trimmed giant who constantly demanded attention. Yes, and so of course the charming and articulate Lady with her artistic chair-fixed husband. They had turned their barn to an original cha(i)rming dining room.
Our last hiking day could have been a brilliant finale to a wonderful odyssey. But, it did not get "put on ice" – it burned up. Summer heat hit us and the leaders with concern for the group, sensibly rescheduled the hike to four, five kilometers and the same distance back. Never will I forget the incredibly attractive footpath where it disappeared a few kilometers away over the trail, doomed to remain untrodden by me when we were persuaded to turn back.
So we went back to Cape Town. Took the jumbo jet in due course. Flew away and came back because of a technical problem. This meant that we had a bonus day in Cape Town at Winchester Hotel where we were able to celebrate Ulla's birthday in an elegant and decent manner…"
— OLLE CARAPI

You can travel to South Africa all year round, but we recommend going September to May

Healthcare is good in South Africa. Even so we suggest obtaining a sound travel insurance before departure

As a EU and UK citizen, you will receive a 90-day tourist visa upon arrival in South Africa

To ponder before travelling:
The so-called "peak season" in December / January is very popular indeed and requires booking of accommodation, safaris, activities and restaurants well in advance.